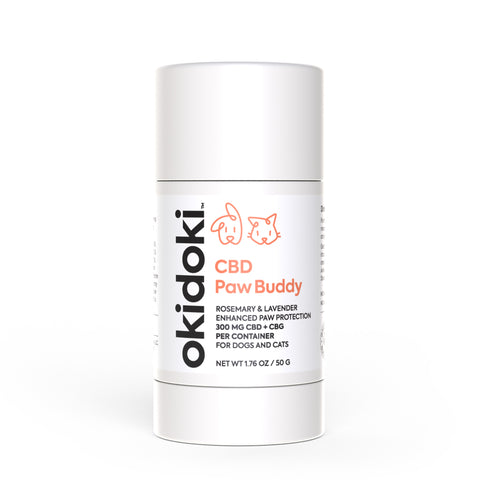 Hemp Paw Buddy
Okidoki Paw Buddy both protects and softens. Use it on dry or rough paws and also on noses. Great for both dogs and cats. Each Paw Buddy contains 200 mg CBD + 100 mg CBG. The Lavender and Rosemary balm infused with CBD helps protect from the extreme heat of pavement that can severely hurt your pet's paws as well as the extreme cold and salt on wintery walks. CBG is known to prevent but not treat infections that can result from the unavoidable bacteria and e.coli on our sidewalks and streets.
Paw Buddy is made with 100% natural ingredients and has soothing rosemary and lavender scent overtones. The balm comes in an easy-to-use, twist-up applicator – no messy fingers!

For dry or rough paws and noses. Moisturizes, soothes, and protects skin.
Gently apply and massage into pads of paw or affected area. Repeat as needed. Avoid contact with eyes. Store at room temperature.